Dura-Line Launches New Product: FuturePath Figure-8
KNOXVILLE, TENN. – June 25, 2018 – FuturePath Figure-8 Self-Support Aerial accomplishes the impossible. There's not actually room on a power pole for seven attachments for seven different fiber networks, but with FuturePath Figure-8 Self-Support Aerial, seven MicroDucts are bundled into one conduit.
Dura-Line's Figure-8 standard self-support duct has been in use around the country for more than 30 years and now the FuturePath Figure-8 Self-Support Aerial option allows for a flexible, expandable network with dedicated, easily identifiable pathways for system upgrades, redundancy, and future capacity. Not only is it a safer option for linemen because it cleans up the pole, it keeps fiber networks secure and easy to access. As an on-going revenue source, some customers have chosen to lease out the extra pathways.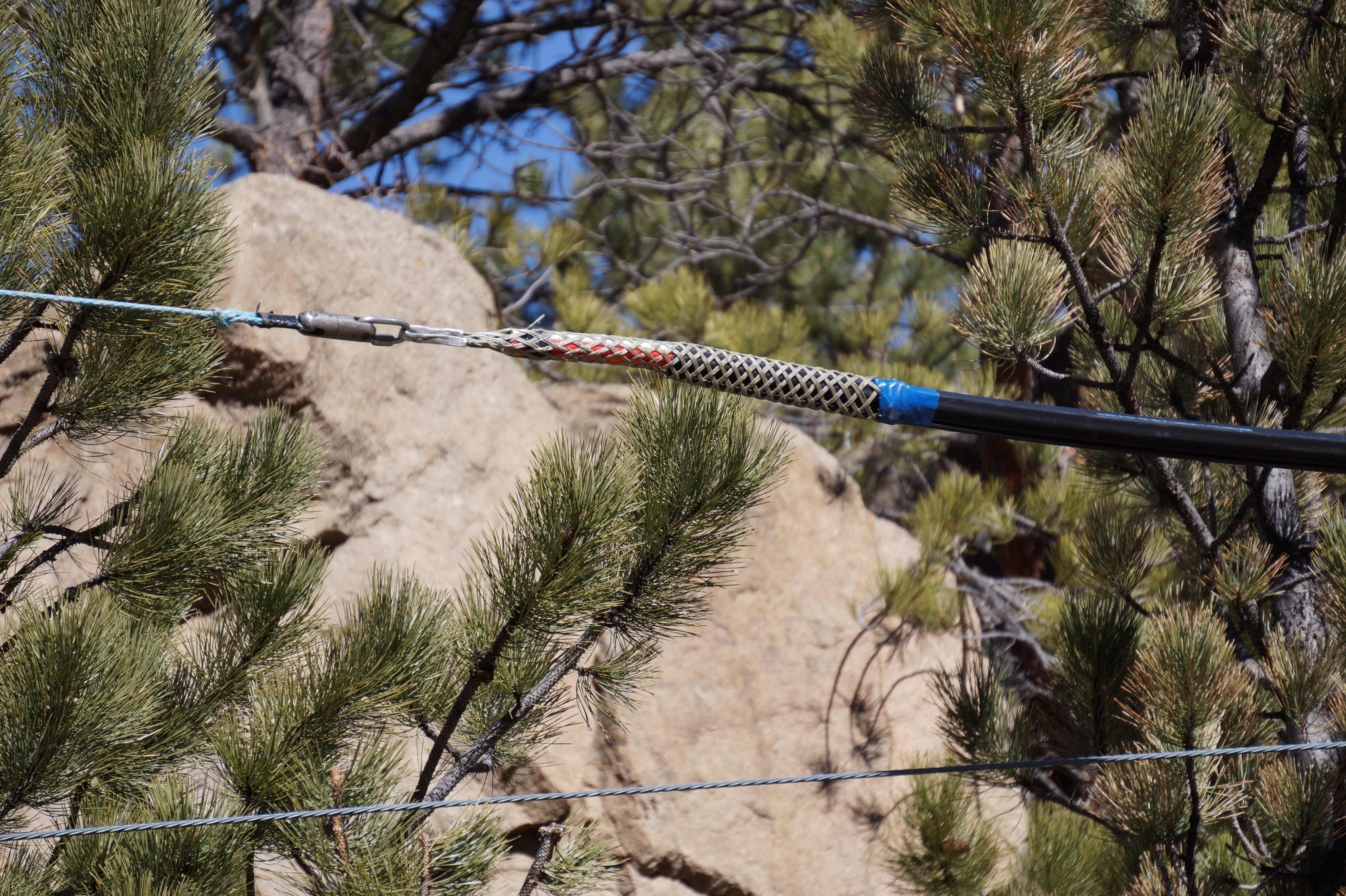 "The main reason we chose FuturePath is because there are seven pathways inside of one conduit, so instead of us spending a lot of man hours to keep running fiber from pole to pole, this is a much better option. With one duct bank in the air, it is faster and easier to push fiber through," said Joe Lockhart, Line Superintendent for Estes Park Light and Power. "If you have FuturePath, you only spend time once to put it in the air - which involves permits and traffic control - and then you just go to a vault and push the fiber through."
"We are in the Rocky Mountains," said Lockhart. "A lot of our poles are still being climbed. We only have 40 percent access. We just can't get to them with a bucket truck because they are up on the side of a mountain."
The Town of Estes Park did not have broadband, but a survey done by Colorado State University showed that the residents preferred to buy high speed internet from the Estes Park Power and Light company instead of from a traditional telecom company, primarily because of the established reputation for response time during power outages.
Lockhart said they spent a year investigating various options looking for a way to install a network, while saving on cost and man hours. Traditionally, strand and lash techniques are used to mount aerial cables. "A cable company will put a steel guide wire, or support wire, in place and then come back and install fiber optic cables, and then come back with a machine that connects the fiber to the steel pole – that's three things you have to do," Lockhart said. "It's a cheap product to buy, but the man hours add up."
Lockhart estimated that the traditional cost of installation with a contractor would have cost $18 per foot, but his in-house costs were closer to about $7 per foot. "If we can save $3 or $4 million on man hours, that's a big deal. It's not just installing; it's maintaining. We are saving in the long term also." Easier maintenance provides immediate and future cost-savings.
Some customers prefer the traditional strand and lash technique because of the equipment and resources already in place, which also works for FuturePath Figure-8 Self-Support Aerial.
Safety is always a priority. When linemen are working at the poles, the fewer things they have to climb over, the better. Lockhart said, "Another great thing about Dura-Line's FuturePath Figure-8 Self-Support Aerial product is that it cleans up the pole. Our crew only have to climb over one thing instead of six or seven things. It really helps our line crew."
The strand does all the work in FuturePath Figure-8 Self-Support Aerial. Generally, poles are placed 150 to 200 feet apart and the tension on the line is between 1,500 and 2,500 lbs. FuturePath Figure-8 Self-Support Aerial has been product tested to support up to 6,500 lbs. of linear tension. Dura-Line has accounted for rain, wind, and ice loading as well as a certain amount of sag between poles. FuturePath Figure-8 Self-Support Aerial supports against water migration and freezing.
Dura-Line supports FuturePath Figure-8 Self-Support Aerial with rigorous testing, customer training, and installation support.
"There's no additional traffic control, we're not disturbing people's landscaping, and this is several of thousands of dollars cheaper. If we can save money, then that's what we are trying to do," Lockhart said. "Not everyone loves government, but we want them to at least like the power company."
Dura-Line is an ISO-9001 rated manufacturer of HDPE conduits serving the telecommunications, enterprise, and electrical markets. Dura-Line is a leading international manufacturer and distributor of communication and energy infrastructure products and systems including conduit, cable-in-conduit, pipe, and accessories. Dura-Line's products are designed to provide for protection and fast, safe installation of communication networks, power cables and pressure pipe for a wide variety of markets, including telecommunications, enterprise networking, energy, and transportation. Acquired by Mexichem in 2014, Dura-Line has manufacturing facilities in the U.S., Mexico, India, Oman, Europe, and South Africa.